13.05.2013
Air Curtains Collaboration at Drapers Hall
Air curtain specialist, JS Air Curtains, and entrance specialist, Blue Chyp, have recently supplied and installed four revolving door air curtains at Drapers Garden office complex in the City of London.
Blue Chyp was called in by its partners, Boon Edam, who had installed four revolving doors at the impressive 16 floor office complex to provide front and rear access to the reception hall. Constant use of the doors was creating severe draughts through the foyer and causing discomfort to the reception staff, resident employees and the building's many visitors. Believing air curtains could be the solution, Blue Chyp turned to JS Air Curtains.
Adam Pressland commented for Blue Chyp: "We thought air curtains would solve the draught problem at Drapers Gardens but needed an expert to help us specify appropriate eco-friendly units to meet the heating requirement while keeping electricity consumption low.
"JS Air Curtains has provided the ideal air curtain in the Rotowind G1500E, which was designed specifically for use with revolving doors. Working closely with the JS project management department, our design team subsequently fabricated bespoke plenum covers, matching the structure of the four entrance doors, to camouflage the Rotowind units."
Black Rock, the asset managers for Drapers Gardens, has been delighted with the improved comfort and reduced energy costs that the joint collaboration between Blue Chyp and JS Air Curtains has delivered. Jason Tothill, from managing agents Norland Managed Services, commented: "We could not be more pleased with the function and performance of the Rotowind air curtains. The added requirement that they should blend aesthetically with the entrance décor has been a triumph for Blue Chyp."
JS Air Curtains' Rotowind range was designed to meet the specific conditions of a revolving door, which can act as a low-speed fan, forcing a mass of cold air into a room with each rotation. By combining a Rotowind with a revolving door system, cold air is prevented from entering.
The main body of the Rotowind air curtain is mounted above the door with the curved air outlets creating a barrier around the inner opening of the doorway. Each unit is created to exactly match the curvature of the specific model of revolving door. The Rotowind is made of aluminium profiles and zinc plated steel panels and nozzle, and was finished in natural anodised silver for Drapers Gardens. The low noise centrifugal double-inlet fans are driven by external rotor motors, with built-in thermal protection, and provide five-speed selection.
Back to the News overview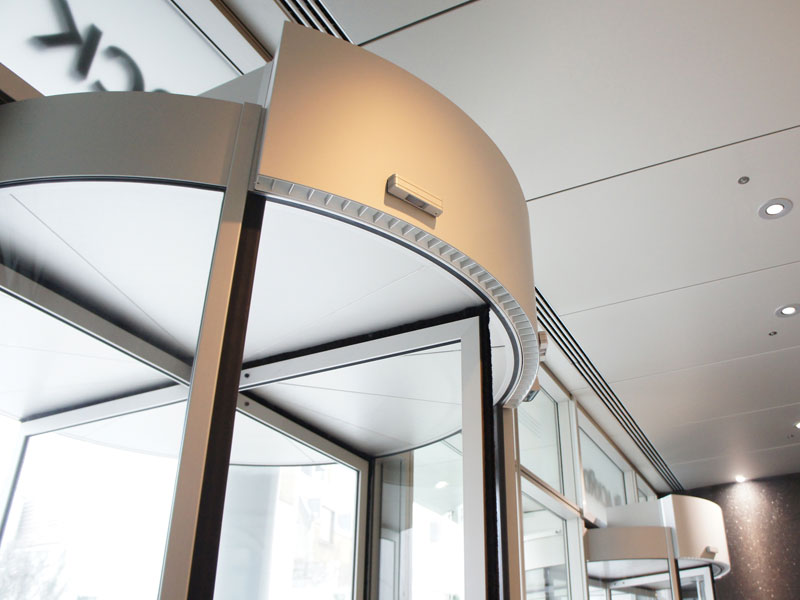 ---
---